Vermont Agency of Natural Resources reports a successful first year for Vermont's E-waste recycling program, collecting 3.4 million pounds of electronic devices, or 5.5 lbs per capita. These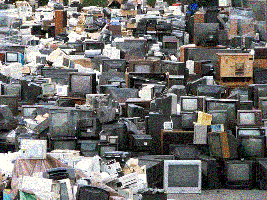 include devices such as computers, laptops, monitors, printers, and televisions.
Under Vermont's E-waste law, electronics manufacturers are required to participate in the state plan or their individual plan. If the manufacturer is participating in the state plan, the manufacturer must pay a registration fee and implementation fee to the Agency of Natural Resources, which is responsible for administering the standard plan.
Since July 1, 2011, any household, charity, school districts, or small business (with 10 or fewer employees) can recycle e-waste for free at the more than 90 permanent collection sites across the state.
The report also included recommendations on how to improve the program.

---
Learn more about our efforts to support e-waste laws. Please support our work on e-waste and make a tax-deductible donation today.